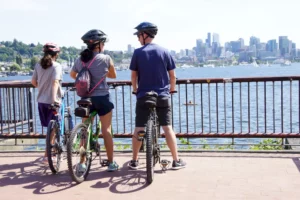 The stunning city of Seattle is so much more than Starbucks and the Space Needle! Are you considering moving to this iconic major city? We've gathered five fantastic facts about The Emerald City that make moving to Seattle, WA, a no-brainer.
1. You'll Eat Like a King in Seattle
Seattle is a scrumptious city for those with a passion for dining. Local restaurants are frequent nominees for culinary awards, such as The James Beard Award.
Each year, the James Beard Foundation honors innovative chefs and world-class cuisine in American cities. In 2023, the foundation named ten local restaurants and chefs as nominees, ranging from Vietnamese fare to bespoke burgers.
The next time you order take-out to your new apartment, you could be feasting on an award-winning dish! Award-winner or not, the entire city focuses on local, sustainable, and eco-friendly eats.
Coffee connoisseurs will also feel at home in Seattle. The coffee shop scene goes way beyond Starbucks, with small, local roasteries throughout the area.
2. Seattle is a Walkable Wonderland
In the age of climate change, your ability to navigate a city on foot is a significant factor. In Seattle, it's common to commute, socialize, and explore on foot without increasing your carbon footprint. It's a popular cycling city, with many residents getting more use out of their electric bicycles than their vehicles.
If you're going somewhere farther, you can expect easy access to public transportation options. They include the light rail, offering effortless access to the local airport. The city's reliable bus system will bring you everywhere the rail doesn't go.
All that to say, Seattle is a wonderful city for those without cars. Even if you're simply seeking a scenic stroll, you'll find ample greenspaces and a gorgeous waterfront to explore.
3. Seattle is an Education Destination
Whether moving to Seattle alone or with a family, you'll have access to lifelong learning opportunities.
Seattle Public Schools is the largest school district in Washington State. Accolades include:
The best (and happiest) teachers in the Seattle area
A high diversity ranking
Fantastic athletic programs
Superlative academic achievement
The city is also home to major universities, including Seattle University and the University of Washington. You'll enjoy visiting one of Seattle's 50+ museums for a more casual place to learn. Destinations range from the Museum of Pop Culture to the Chihuly Garden.
4. Seattle Is the New Silicon Valley
Seattle is one of the largest employers in the tech industry. It hosts tech giants, including Microsoft, Getty Images, Amazon, Expedia, Nintendo of America, and Zulily. Over the past thirty years, hoards of hopefuls have come to Seattle in search of employment in this sector.
The job market is growing 35% faster than in other major cities. Come for the luscious green spaces and stay for satisfying gainful employment opportunities.
Why Everyone You Know Is Moving to Seattle
Seattle residents dine, move, learn, work, and thrive daily. Are you seeking a home with stunning views, cultural diversity, and an eco-conscious ethos? Moving to Seattle will be the perfect transition.
Starving Student Movers would love to help make your move as easy and efficient as possible. We have moved millions of residents over the past 50 years. Request your free moving quote, and we'll help you settle into your new Seattle home.