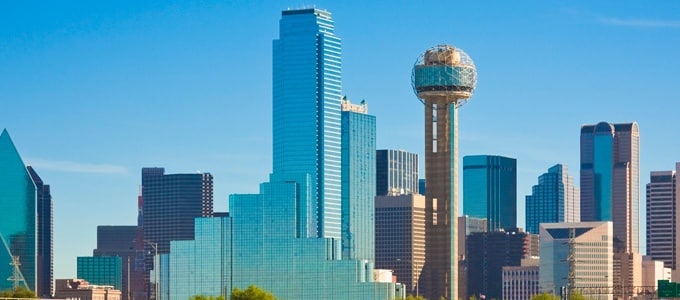 Not all Dallas movers are created equal. Contact Starving Students Movers today to get an affordable estimate for your move. We are fully licensed, insured,, and dedicated to providing the best service moving services in Dallas at the lowest possible price.
Dallas. Big D. Everything's big in Texas and Dallas is no exception. That's why Dallas needs a moving company with a big heart, big trucks, big plans, and a big future. The city has a total area of 385.8 square miles, 340.5 square miles of it being land and 45.3 square miles (11.75%) water.
Dallas Moving Company
Contact Us Today to Get a Quote on Your Move. Call 1-877-304-8559
Starving Students Movers has spent a lot of time in the bustling Dallas – Fort Worth metroplex area. Did you know that 25% of all Texans live here? That's almost 7 million people. At one 10-gallon hat per person, that's 70 million gallons of cowboy hats. Now guess which Dallas moving company specializes in moving hats by the gallon? If you said Starving Students Movers, we like you already, but the truth is, probably none of them since hats aren't moved by the gallon.
At Starving Students Movers, we put our heart into every move. That's a lot of hearts with almost 40 years' experience to help you find affordable moving solutions.
Proudly serving Dallas, Fort Worth, and the surrounding locales including but not limited to:
Highland Park
University Park
Irving
Balch Springs
Duncanville

Farmers Branch
Mesquite
Grand Prairie
Richardson
Addison

Carrollton
Garland
Lancaster
DeSoto
Rowlett
"Check out this vintage Starving Students Ad! We're proud to build on this heritage!"
Don't hesitate to ask for packing services, storage, and packing supplies…we are here to help! Moving to any of these locations in Texas? We can help.
Moving to any of these locations in Texas? We can help.
Oak Cliff
Rawlins
Fruitdale
Eagle Ford
Cockrell Hill

Arcadia Park
Meaders
Reinhardt
Oldham
Kenwood

Gifford
Bouchard
Cole
Highland
Zacha Junction
Contact Us Today for a Free Quote on your Local or Long Distance move or storage solution.
Booking with us is easy! For a free rate quote or more information, call, email, or instant message one of our friendly moving specialists. Our trained, courteous staff is available to assist you 7 days a week!