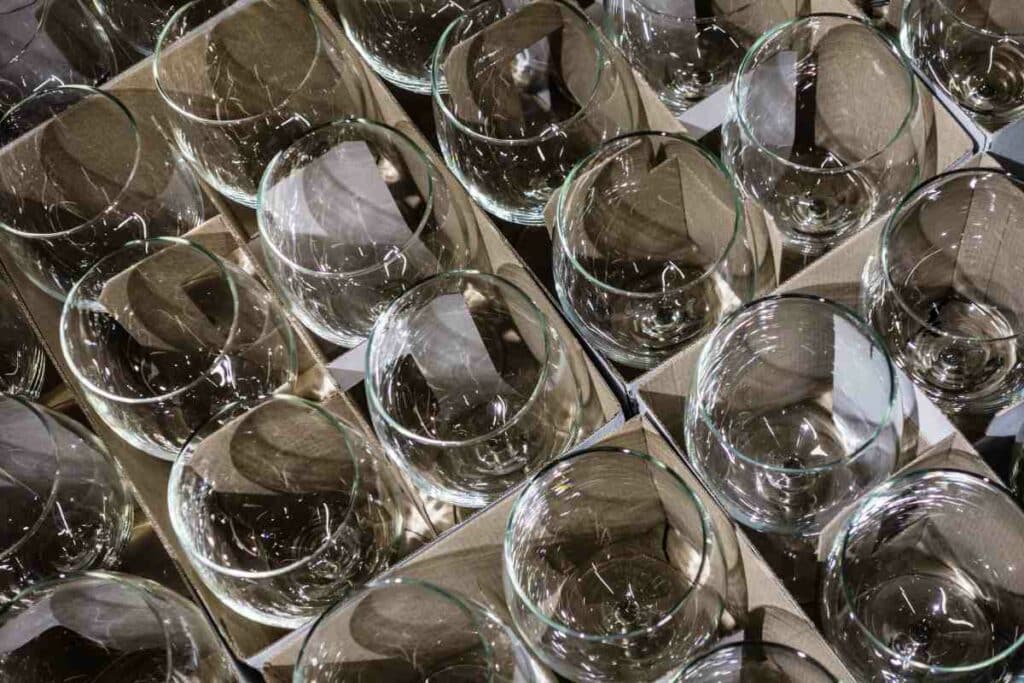 Wine glasses are an essential item to have on hand if you enjoy uncorking a bottle of Cabernet Sauvignon or Chardonnay on wine Wednesdays. But when it comes to transporting them during your next move, you might be scratching your head wondering what to do.
So, what exactly is the best way to pack your wine glasses securely for moving, whether thousands of miles away or just down the block?
Here's what you need to know.
How to Pack Wine Glasses for Moving in 6 Steps
1. Gather Supplies
You'll either want dedicated glass pack kits or heavy-duty cardboard moving boxes and cell dividers. Regardless of which option you choose, it's important to provide a layer of separation between each glass in addition to wrapping each glass.
You'll also need:
Good quality packing tape
Scissors (if your packing tape doesn't have a built-in cutter)
Packing paper, foam wrap, bubble wrap, old newspaper, or rags
Permanent marker or box labels
2. Clean & Dry the Wine Glasses
Once you've gathered all your supplies, it's time to get your wine glasses looking squeaky clean. While this step is technically optional, we highly recommend cleaning your wine glasses so you can put them right in the china cabinet or kitchen cabinet when you move in. Why? Because moving in can be tiring, and this will give you one less thing to worry about later!
3. Group Wine Glasses By Similar Size
This step is important — especially if you're packing taller and shorter glasses in more than one layer in your box. Be sure to pack wine glasses of a similar size and material together.
4. Individually Wrap Each Wine Glass
Once you've sorted your wine glasses, it's critical to ensure that you properly wrap each wine glass individually before packing. To do so, we highly recommend bubble wrap — especially if you are packing expensive thin crystal wine glasses, such as Riedel glasses. It has more cushion than packing paper. That said, if you don't want to spend extra on bubble wrap, two to three layers of packing paper will do.
To wrap:
Next, place a layer of paper or bubble wrap on a soft surface, like a carpeted floor.
Gently place the wine glass down diagonally on the paper.
Roll the glass, stopping halfway to tuck the bottom and top ends in, then finish rolling.
Tape the ends.
Repeat with each wine glass.
Note: If you're packing plastic wine glasses or stemless metal wine glasses, you may be able to get away with simply wrapping them in a sheet of packing paper to prevent scratches.
5. Pack Wrapped Wine Glasses & Add Extra Padding
Place one individually-wrapped wine glass in each cell of your box, adding enough extra padding to fill gaps and prevent the glasses from moving around in each cell and breaking. This extra padding can be packing paper, newspaper…even old t-shirts or rags!
If your wine glasses are short or you have a deep box and lightweight stemless glasses, you can pack wine glasses in two layers by adding a layer of thick cardboard cut to the size of your box. Just make sure you do NOT make the box top-heavy. When in doubt, pack glasses in a single layer.
6. Label Box With "Fragile" & Add Top/Bottom Indicators
Once all your wine glasses are packed away and you've added enough padding around them, we recommend adding padding on top, whether that's a small towel or more bubble wrap. Then, seal your box with tape, label it "fragile", and indicate which side of the box is the top vs. bottom with a permanent marker.
Congratulations — you've now packed wine glasses securely! CHEERS! 🙂
How to Pack Wine Glasses for Moving Without Dividers
If you're trying to pack wine glasses without boxes that have built-in dividers, the best way to do so is to fashion your own dividers out of paper plates. Note that this method is not advised for long-distance moves, but will do in a pinch!
Get Moving Help Now
Get all your moving-related questions answered; give us a call today at (888) 931-MOVE. Looking to see how much your next move might cost? Get your free, no-obligation moving quote now!